Welcome to Apocalypse no Toride Wiki
This is an extensive, ever-growing database dedicated to the Fort of Apocalypse series
written by Yuu Kuraishi and drawn by Kazu Inabe.
There are currently 116 pages and a circulating total of 3,442 edits.
Anyone is free to edit and help expand our knowledge of the series.
Please be aware that this site contains SPOILERS.
---
Introduction
Apocalypse no Toride is a zombie manga about a boy named Maeda Yoshiaki who gets falsely accused of murder. He is sent to the Shouran Academy Juvenile Center which oddly enough is a blessing in disguise. He then meets inmates Yoshioka Masafumi, Iwakura Gou, and Yamanoi Mitsuru who make up Cell 4. While oblivious to them, the outside world is turning into a zombie apocalypse, causing despair! And when a zombie gets inside the reformatory and starts to attack, will they fight the monsters and survive or become one of them?
Characters
News
--05.26.20: Vist the News Archive to see our history of wiki-related news.--
--05:12:.20: Visit our Facebook page!--
--08.04.15: Chapter 45 summary is now available! Final Chapter!--


--05.15.15: Like the manga's Chapter Titles? Check out our Title References page, where we list the chapter titles and the songs they reference.--
Latest Chapter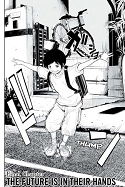 "The Future is in Their Hands" is the final chapter of the Apocalypse no Toride manga. It appears at the end of Volume 10 and provides the "true" conclusion of the series. It was written by Yuu Kuraishi, drawn by Kazu Inabe and released on October 9th, 2015.

Set several years after the creation of the M-Virus cure, it shows a glimpse of life for Maeda, Yoshioka and Iwakura during Japan's recovery period. Read the summary here.
---
Three mini chapters are also included: "Common Lovers", "King Biscuit Game," and "All Apologies".

Featured Character
Yoshioka Masafumi is a member of Cell Four and a primary protagonist in the series. His first appearance is Chapter 1: Soon Crazy.
---
Yoshioka is a member of Cell Four along with Maeda Yoshiaki, Iwakura Gou and Yamanoi Mitsuru. He is 18 years old at the start of the series, and has been sent to the Shouran Academy Juvenile Detention Center for an unknown crime. Quick-tempered and outgoing, Yoshioka is great in a fight, especially with knives. You WANT him to be your ally. Read more...
Ways to Contribute
Create a page


Edit Character Biographies
Edit Chapter Summaries
Upload Images
Start a discussion on any page
Visit our Community Portal for more ways to help
Questions? Contact an Administrator
Community content is available under
CC-BY-SA
unless otherwise noted.